Favoriting an influencer is now available on Intellifluence! Have you ever had a superb experience with an influencer and would like to work with them in the future but can't remember what their name was?
Remembering the names of all the influencers you collaborated with and had a positive experience with can be cumbersome but with the Favorite Influencer feature you will have all of your favorite influencers in one place. Favoriting an influencer is an easy and simple process and there are three ways to do it. You can favorite an influencer via the transaction you are collaborating on, within the Discover tool or directly within the influencer's profile.
Within a Transaction
Located at the top of the transaction, you will see four different icons above the influencer's name. The different icons represent different actions you can take as a brand and these are favorite influencer, block influencer from future communication, open a support ticket, and flag the transaction.

In order to favorite the influencer within the transaction all you need to do is click the heart icon. If you would like to unfavorite the influencer all you need to do is click the heart icon a second time.
Within Discover
Another way that brands can favorite influencers is within the Discover tool. In order to favorite an influencer within Discover, you will need to hover over the influencer's profile card and select Card Actions on the top right of the influencer's card and then select favorite.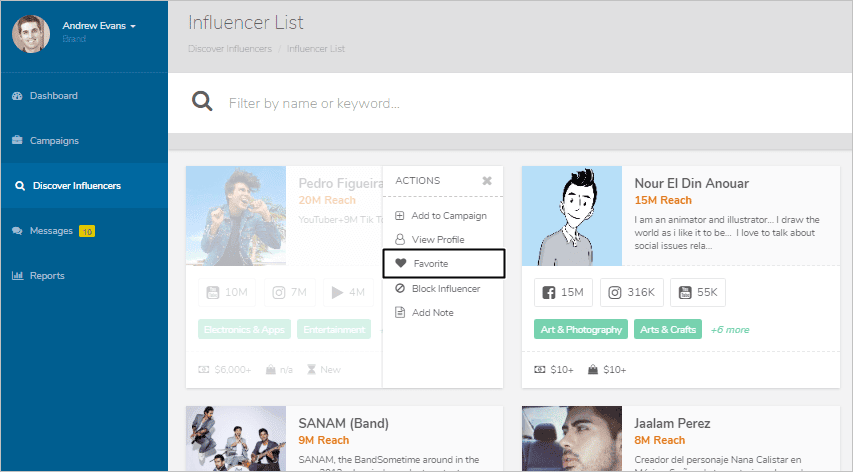 Additionally you will see an option to block an influencer, if you do not want to communicate or work with a particular influencer in the future.
Within an Influencer's Profile
Finally, you can favorite an influencer by accessing the influencer's profile. After you have click their name within Discover, you will be redirected to the influencer's profile page.
Within the influencer's profile card on the right hand side you will see option to add a note about the influencer, favorite the influencer, block the influencer, or add them to your campaign.
View Your Favorites List
When you favorite an influencer, they are added to your Favorites list. This can be accessed by selecting the drop down arrow next to your name and selecting My Account. Within the My Account page on the right hand side you will see options to add a brand user, Reset password, Favorites, Blocklist and Edit. In order to access your favorite influencer list all you have to do is select Favorites. You can also view the influencers you have blocked by selecting the Blocklist button. It's really that simple!